Grey's Anatomy Talks About Sardinia
Grey's Anatomy, the US medical drama series in the 17th episode of season 14th, gives more than one reason to visit and discover Sardinia.
Dr. Meredith Gray, Ellen Pompeo, remembers a trip to Sardinia. When she was young stayed with her friend at home of centenarians, drinking good wine and going to the beach. Describes the island as the ideal place to livewhere everyone is happy and life goes slowly.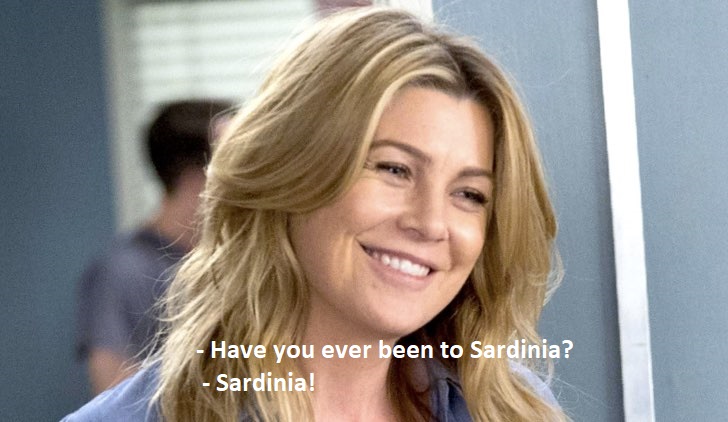 – Have you ever been to Sardinia?
– Sardinia! – Nude beaches and a bottle of wine. Excellent choice!
– … when I was young my girlfriend and I stayed in this tiny village. I think we paid this woman like 2 dollars to crush at her house and drink all her wine. She was 97 years old, her sister was 101 and their neighbor was 99. They grew their own food, they wandered this little cobbled stone streets, with chickens to the beaches
– Wait, I'm sorryt! There were chickens wandering on the beaches?
–  No, the people! This incredible people! Who were laughing and fighting with the people they love and never listening any rush. No one had to go…and they were happy!
– So you wanna go there and live with chickens and the happy people?
– Yes!
– Ok
– Me and my kids…and my sisters can come. They can do the cooking and the growing…because I mean…please!
And everyone live there until they are 100 years old. There's no cancer or alzheimer so there's no life for me to save…no one will die on my watch. Sounds pretty good, just me and my kids on a hammock with a stock of books that I will buy with no intentions of ever reading.
Source: http://www.blualghero-sardinia.com