Sardinian Gnocchi With Tomato-Sausage Ragu (Malloreddus Alla Campadianese)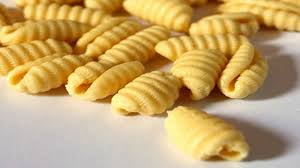 Chef Adam Brick's Malloreddus alla Campidanese recipe is based on a dish with a long history in Sardinia, Italy, where historically a bride would bring a basket of homemade malloreddus to the house of her new husband and together they would eat the saffron-infused pasta from a shared plate. "I think it's important to remember where we've come from and where we're going," Brick says about his approach to creating dishes.
SERVINGS: 4
Yield: Makes 7 cups
INGREDIENTS
Salt

1 pound dried malloreddus (Sardinian gnocchi; see headnote)

1 tablespoon olive oil

1 tablespoon finely chopped garlic

4 ounces pig-snout meat or fresh hot italian sausage, casings removed

1/2 cup dry white wine

14 ounces canned Rienzi brand cherry tomatoes or whole peeled San Marzano tomatoes, with their juices

1 pinch saffron threads

1 teaspoon crushed red pepper flakes

Freshly squeezed juice of 1 lemon (3 to 4 tablespoons)

1/2 to 1 tablespoon fresh chopped marjoram or oregano

2-to-4-ounce block of Fiore di Sardo or pecorino-Romano cheese, for serving
DIRECTIONS
Bring a large pot of water to a boil over high heat.
Meanwhile, heat the oil in a medium, heavy-bottomed pot over medium heat. Once the oil is hot, add the garlic and stir until it begins to caramelize, being careful not to let it burn.
Add the pig-snout meat or sausage and cook undisturbed until it develops a bit of a crust, then stir/turn to cook it through (and stir to keep the garlic from burning). Add the wine and stir, breaking the sausage into small chunks.
Cook the wine down until there is almost nothing left; this should take 4 to 5 minutes. Add the tomatoes and their juices, stirring to incorporate and form a ragu. Turn off the heat and allow the sauce to sit so the tomatoes can melt into the mixture. (The cherry tomatoes will deflate; if the tomatoes are whole-peeled, use the spoon to mash/break them up.)
Add a generous pinch of salt to the boiling pot of water and add the gnocchi, stirring so they don't stick together. Cook according to the package directions; drain in a colander or use a Chinese skimmer to drain and transfer the gnocchi to the ragu.
Turn the heat under the ragu to high; stir in the saffron, crushed red pepper flakes, lemon juice and chopped marjoram or oregano (to taste). The pasta will take on almost a salmon color. Taste, and add salt as needed.
Divide among individual wide, shallow bowls. Pass the cheese, to be grated on top of each portion. Serve hot.
Original POST:  Deb Lindsey for The Washington Post
ResRei Sardinia BLOG… not only real estate Sardinia