Ruggero Mameli shares with us… 3/3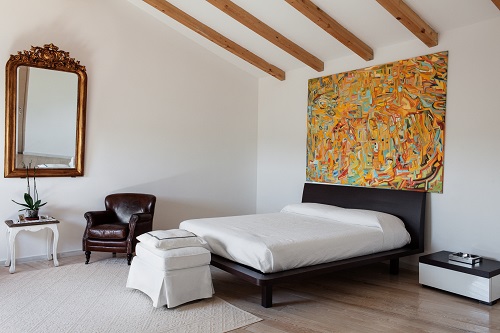 In the master bedroom, furnished with modern elements of extraordinary quality, we installed a large bathroom with simple and modern minimalist linear furniture, with the exception of the mirror, which my friend's mother was going to throw out but I salvaged it – I think it's wonderful. For my guests, the house has two bedrooms and a colorful bathroom, and a room for staff during the night.
On the top floor, the attic is divided into two parts: an indoor area used as a gym and an outdoor area where you can enjoy an amazing view of the rooftops of Irgoli and Mount Tuttavista and where oftentimes, we find ourselves joining the guests for a cocktail under the stern gaze of the Four Moors flag, the symbol of Sardinian patriotism by excellence.
The only thing that falls out of the local context is the Arabic-themed area. I have always had a passion for the Arab world. I am very familiar with this world, so I thought of having a corner where one could smoke shisha (water pipe) and enjoy some dates. An old hand-carved frame from Oman holds a collection of jewelry and some jewelry worn by Arab brides on their wedding day. Some Yemeni daggers and handmade vases from the south of Morocco, two Persian plates, a beautiful sea green lamp with blue decorations are all wonderful tributes that my Arab friends have made when visiting.
Old houses are invaluable and have a priceless charm, especially if they are, like mine, in the heart of the historic center of a beautiful village, with friendly neighbors who are always willing to have a glass of wine and exchange a few words and wonderful children waiting to be invited to swim in the pool. It is truly a wonder! The realization of a work of this size was exhausting and maybe I could not do it again. In a house of 420 square meters and 350 square meters of garden, the restoration held many surprises and some were not always pleasant. I use this house whenever I have the opportunity. It is my refuge, my place of vacation and I'm very happy with the results. But I have another project in mind – another house, another challenge. I cherish the idea of devoting myself to another project. What if this passion for architecture tries to become dominant? It is likely that I will not deny it.