Ruggero Mameli shares with us… 2/3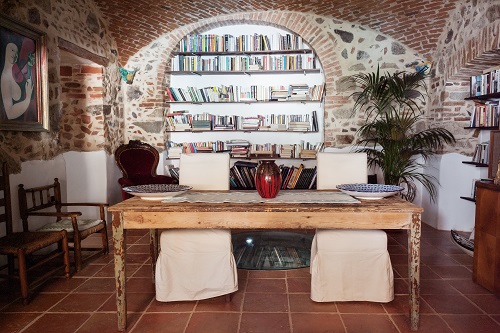 For the library, we chose to conserve the original walls with stone and beautiful arches. It was a warehouse where, to my great surprise, I found a well of about five meters deep. Once cleaned, lit and covered with thick glass, we found a whole new dimension. I think this feature is one of the most appreciated by my guests, especially the younger ones who would never miss the opportunity to walk over it and feel the thrill of being "suspended" over four meters of clear and fresh water. On the wall behind the couch, there is a display of antique jewelry, a Sicilian puppet, two candles from Turkey, some old rosaries belonging to my mother, an old knife found in my mother's courtyard many years ago, an old oven shovel for bread called "carasau", a candleholder from Yemen, and a small portrait of Frida Kahlo, in remembrance of the hospitality of one of the last great fans of Diego Rivera and collector of Frida works that I had the pleasure of meeting over coffee several years ago in his place in Mexico.
In the billiard room, we preferred a more refined style to the walls to make the atmosphere less cumbersome. On the white wall we installed a linear and minimalist fireplace, decorated with three stone slabs (from the door of an old house) as a reunion between the ancient and modern.
The tiled floor is made ​​of handmade terracotta tiles, suggested by Graziano Chironi of "Ceramiche FANTASY" of Nuoro, with delicate and charming imperfections. The lamps placed in the two rooms are different from each other and were handmade by the talented local artist Pina Monne, who is well known for his work in ceramics and for his beautifully painted murals.
The second level holds the kitchen and dining room. The colorful tiles give the kitchen a frivolous touch, with a cheerful and pleasant effect. In the dining room, the furniture deserves special attention. The key word here was "recycling": an old kitchen table, an old kitchen unit plucked from a neighbor in exchange for a new one, a large mirror taken from its original setting, and mismatched chairs are the elements that characterize this unique room.
The blue fireplace reminds you that the sea is just ten minutes away. I chose a clear and summer color for this element which is purely used for winter days to provide those who sit before it with warmth and relaxation. I love color and I could not deprive myself of indulging in it. The stairs leading to the section reserved for guests are made ​​of wood (as well as the floor of the master bedroom), handmade by my brother Franco, a carpenter who can create beautiful items tailored to any environment, in particular classical rustic Sardinian.
Read the following posts in the "Sardinian Style" – Sardinian Home Style …