Ruggero Mameli shares with us ….. 1/3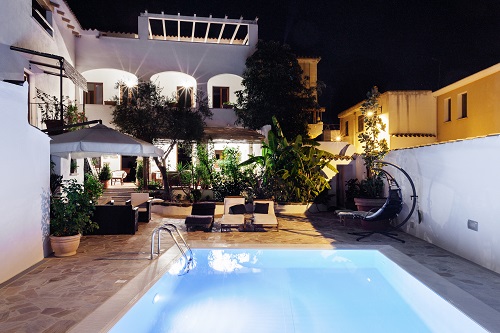 Ruggero Mameli shares with us…
I was born in Onifai (NU), a small town in Lower Barony on the central east coast of Sardinia, light years away from the glamor of Costa Smeralda. There are four villages in Lower Barony, very small villages with little to offer, just their beauty and an incredible quality of life. Not a dream place, but a place for dreaming. The scents, the clear sky and the characteristics of the people are imprinted in the heart and mind with such force that even today I still feel their impact.
It was great to grow up there. When I close my eyes and think back to my childhood, I feel that the mothers were more "motherly", the neighbors more "neighborly", the foods more "savory", and the village festivals were so colorful and vibrant. There are many memories, images and impressions.
I never had a passion for architecture, but I appreciate its beauty and inspiration. The most common memories are of the "cortes" of old houses, with their high walls that uncovered hidden colors and scents. Flowers, olives, almonds, dates… full of colors and shapes that cannot be forgotten. Bringing back these memories, that's what I've tried to do with my house in the neighboring village of Irgoli.
It is an old but beautiful house, which was once transformed during the sixties into a hideous building with materials of poor quality: the tiles, the colors and furnishings were of questionable taste and very harsh on the eyes.
It took four years of work to bring out the luster the house deserved and to reveal its true identity. Today, my guests pass through the house and sigh, as if their surroundings have returned them back in time to a hundred years ago. With each step, they can't help but to remember their own childhood in one of these traditional houses which no longer exist. Of course, pools were not common then, but now we have other needs. Touches of modernity and comfort in older homes are welcome, provided that they are able to blend harmoniously with the original concept. And that's exactly what Francesco Monni  of "Royal Piscine"  and technician Ugo Cucca insert set up to accomplish – they inserted a modern element in an ancient context, respecting the soul of an old Baroness house. Ugo and Francesco were both born and raised in these parts, so they fully understood my idea and after a series of proposals, they found the perfect formula.
Francesco Le Flore is a technician (and also a native) who took care of the house's structure and suggested the use of organic materials for the interior and exterior. The absence of concrete proved to be an excellent choice: the environment is healthier,  so you can breathe better. The house is organized on several levels. On the ground floor, the library and billiard room overlook the patio. The latter is built with old juniper trunks recovered from an old house and has a ceiling made ​​of cane, which allows you to spend a good part of the day in a garden, away from the hot summer sun.
Read the following posts in the "Sardinian Style" – Sardinian Home Style …..