Costa Smeralda style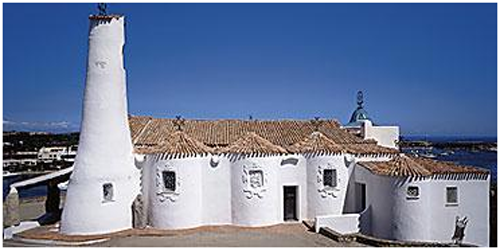 The creation of the Costa Smeralda (Emerald Coast), operated by the Consortium formed in 1962, marked the beginning of the tourist boom in Sardinia. The area affected by this significant architectural, economic, and cultural phenomenon extends about 50 km between Arzachena and Olbia and includes a portion of almost uninhabited territory.
The Consortium, whose first members included Karim Aga Khan, is formed around a very rigid organization. Its main focus was represented by the Architectural Committee, which monitored and regulated any construction activity that took place in the Costa Smeralda, on the basis of a manufacturing program fully sponsored by the City of Arzachena.
This mode of organization soon became repeatedly opposed by the Autonomous Region of Sardinia, which failed however, to stem the powerful effects of the Consortium. Suddenly, the pristine coastline of the area became subject to intense human settlement. One of the main architects during this time was Luigi Vietti, who invented the name "Costa Smeralda" as well as many other names meant to become very well known.
The first settlement made by Vietti was Porto Cervo. The village layout can be compared to a medieval village with an important variation, however, with the location of boutiques and gatherings at the center of the village.
The interior spaces of the village were laid out according to their intended uses: thus the Passeggiata, the square of Arches, and the square of Chiacchiere. The creative efforts of this period give rise to the so-called Mediterranean Style, a style totally invented and based on simple shapes in large volumes, harmonious with the environment, a repetition of arches, neutral or pastel colored plaster.
In 1963, Vietti Porto Cervo constructed the Pitrizza Hotel of Vietti, which consists of a series of villas completely surrounded by thick vegetation, and is caracterized by the extreme care in the choice of building materials and architectural designs.
These first buildings still remain recognized for their strong character, in comparison to subsequent speculative projects, which are much less attentive to achieving natural integration with the region.